every so often i get the itch.
(why does that sentence come off as terribly creepy and off putting?)
well actually, every so often i get two itches.
(not doing much better here, kate.)
one happens to rest right betwixt my shoulder blades in the exact spot that it cannot be reached from above or below.
when i get that itch, i'm left with no other choice but to bust a Baloo.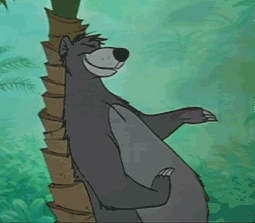 am i right or am i right?
the other itch is caused by a bite from a minxy,little insect. the cure for the itch is incredibly expensive. and despite how many times i've been bitten, i've never become immune.
the insect:the travel bug.
every 6 months or so, i get a vacation/travel/anywhere but here itch.
and sadly, it cannot be done away with by any bear-like actions. (or at least not that i know of. salmon catching, perhaps? i don't know. i've never tried.)
and i am left with a constant, unscratched itch.
because finding a tree to shimmy my back down is a lot easier than finding free plane tickets or free cruise trips or free hotels. and the fact of the matter is, any vacation that garrett and gilly and i go on right now would have to be free.
because we are broke.
so the itch continues on.
in these itchy fits, i usually do most, if not all of the following.
1. rearrange my furniture. something about my couch facing a different direction makes me feel like my life is going in a different direction, too. (insert "i spend my life on the couch" joke here.)
2. watch Netflix documentaries/travel shows on vacation hot spots, cruise ships, beaches, water parks, etc.
3.visit the most vacation-esque destination within a 20 miles radius from my recently rotated couch.
4. admire photos of vacations past.
5. whine to garrett about how much i "need" a vacation.
6. make a list of all of the dream vacations i want to take in my life.
7. try on my swimsuits and sometimes just wear them around my house for a few minutes.
8. use self-tanner to make me feel like i've been somewhere tan-inducing.
9. bake, cook, craft, design something new. sometimes even change my hair.
10. admire photos of vacations past...again.
join me, won't you?
i was actually incredibly freaked out by that monster.
Maui, 2008
oh, and i got the very worst sunburn of my entire life.

honeymoon cruise to florida keys and mexico, 2010
i did cassie's hair and makeup for her big day.
we obvi had to go to the beach.

south carolina, 2012
(it was just a visit to see my sister and her family, but we loved it. also, it was 80% for gilly. she got to run and play a whole lot and play with other pups. it was gilly heaven.)
california,2012(marrying a boy from california has its perks. going to see family always turns into a fun vacation through that lovely state.)
the coldest water. ever. EVER.
i really just love the level of fluff that garrett's hair has managed to reach in this picture.
so there you have it. a glimpse into some spectacular vacations.
garrett and i are crossing our fingers, toes and eyes that we'll be able to save up enough money to get out to utah this summer to visit my parents and some of our friends (and then probably his family, too. because..well, if you're that far west you might as well keep going, right?)
what was your favorite vacation of all time? and how often does the travel bug bite you? am i alone in this frequent itching?
love,
kate.
lyrics: i'll set off on a new chase. i gotta see a new face. i need to take a holiday.